Bake 7 – Tarte Au Citron – Season 2 – Episode 2
Special Guest Kitchen – My father in law's house and his hard to understand oven controls and long unused appliances.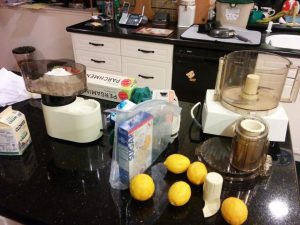 plain flour
cold butter  – butter temperature is a crucial thing. Too hot or too cold and your bake will not come out.
powdered sugar
egg yolk
cold water
Method
This was my first sweet pastry. I was poking right along, using the food processor that father in law has probably not used in a decade. I got it all pulsed and looking like breadcrumb, pulled it out, kneaded it and realized I had forgotten the powdered sugar.
I threw it all back in the processor, added in the powdered sugar and hoped like hell I wasn't overworking it.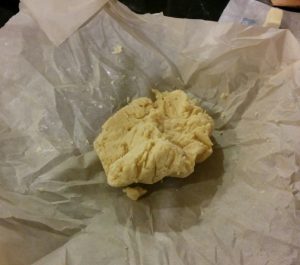 Given that I had that cock up, I chilled the pastry before rolling it out as an appeasement to the pastry gods. I think if you can you should probably always chill if you have time. If you're smart, you should plan it so you do always have time.
I got a shiny, new proper tart tin for this, using the old employee discount. The edges are quite sharp, like, you could use it as a very large cookie cutter, sharp.
When I watched the masterclass video, Mary had a particular way of rolling out the pastry.
"Lay a piece of parchment paper on the work surface. Remove the base from the tart tin and lay it on the paper. Using a pencil, draw a circle onto the paper 4cm/1½in bigger than the tin base.
Dust the base of the tin with flour. Place the pastry ball in the centre of the tin base and flatten it out slightly. Roll out the pastry, still on the base, until it meets the circle mark. As you are rolling out, turn the pastry by turning the paper. Gently fold the pastry surrounding the tin base in towards the centre."
-When I watched this part on the masterclass video I was so impressed with Mary's cleverness. She is all about getting you there as quickly and easily as possible while getting "a result." This even goes to making sure you have as few dishes to wash as possible. When I watch her cooking videos, her care for home bakers, among which she places herself, really comes across. This technique was perfect for this pastry, which was frighteningly delicate.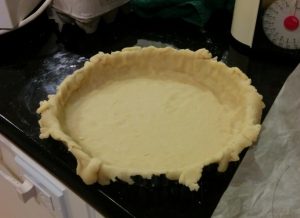 This is when you can grab a little extra piece of the pastry to press pastry on pastry to avoid over heating it with your fingers. The pastry felt fragile and I was petrified of it cracking as I placed it in the tin. Didn't though, went in a charm using Mary's method.
Time to blind bake (that's baking a pie shell with weights but no filling so the bottom doesn't puff or or become…soggy!). I used lentils, that's what was in the guest kitchen. (How does it feel, Niel?)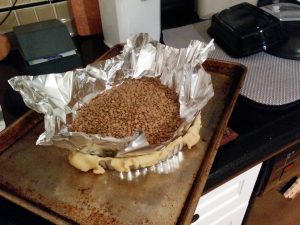 I didn't blind bake long enough. I will give it a minute or two longer in the future. From this bake and others I have learned that I don't get good results when I have a time pressure – like getting a tart done in time for the kid to go to bed. You can see below how pale the pastry was. Needed just a bit more color.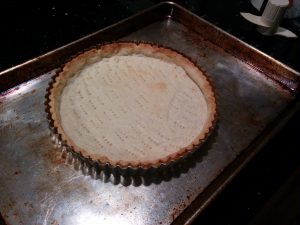 The Filling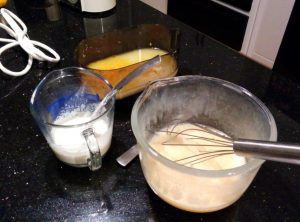 sugar
lemons, juice and zest
powdered sugar, for dusting (nope. I hold no truck with putting bloody powdered sugar on every damn thing) (See, I'm getting opinionated – that means I'm growing as a baker)
I prepped everything while the pastry case was chilling and baking. I filled the pastry case as it sat on the rack, partially in the oven. It was nerve wracking. Getting it as full as I dared and then holding my breath as I slid it in the oven. I want a fancy oven with the racks on rollers so they glide in and out. Failing that I think I might take care to clean and lube my rack edges.
One bakes until there is just a wobble. This is one of those things that is just based on experience. My brother in law, who is a professor of theoretical physics, and I stared at the center of the tart. We shook the rack a bit and agreed that it had stopped being jiggly and had moved to a wobble. I've got science on my side for this one.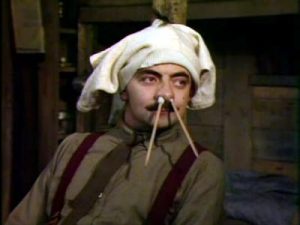 (I had never seen the technique of putting the tart pan on a large jar to get it out before I watched Bake Off. Genius.)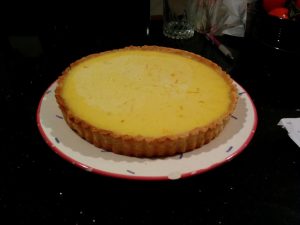 I wanted, per Paul's criticism of Norman in Season 5, perfectly straight, clean, shiny custard. It was straight. The shine wasn't perfect. Some of the fat in my heavy cream had separated and I shook it to redistribute it. The shaking made bubbles that carried through the custard making and the bake. The pastry could have used a minute or two more in the blind bake but there was no soggy bottom. We also ate it too early (a common flaw in my bakes is that we don't wait very long before we eat them) so the custard wasn't completely set.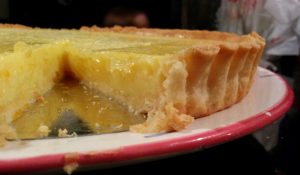 It was completely delicious with a wonderful texture and a light flaky pastry. When my lemon tree recovers from the ill timed pruning I gave it last year this tart will definitely appear again. It would also be wonderful with other citrus flavors. I'm partial to lime.
You should make it, it's not difficult and you'll feel like a boss. Just get a consult on the wobble and you'll be fine.
-fh