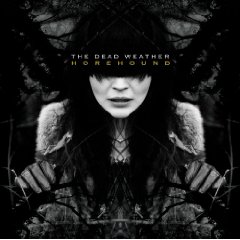 I've been trying desperately for the last month to like Horehound, the album by the Dead Weather. On paper, it sounds like a great lineup. I've been a huge fan of Alison Mosshart's first band Discount since I was in college, and I was eventually brought around to her second band The Kills by a girlfriend who thought they were good sex music. I could take or leave Jack White's Raconteurs, but the White Stripes are one of my go-to plays when musical satisfaction is required. Putting Mosshart and White together with a couple of guys from bands I don't care about still should have resulted in a stripped-down sensual rock machine, something sinuous, decadent, and yet spare.
So how the hell did they wind up creating an acid rock/whitey funk band? The songs on Horehound are loud, obnoxious, plodding, repetitive, and lug around squealing, stabbing vocals that sound like they were a lot more fun to perform than they are to listen to. In short, it's full of the kinds of songs that musicians write to please themselves rather than an audience. "I Cut Like a Buffalo" stands out as the kind of lumpy, meaningless exercise in beating a single reggae riff to death that I used to come up with while hanging out in high school getting high and messing with instruments I couldn't play. "Hang You From the Heavens" stutters and staggers like Michael J. Fox off his meds at an ether frolic, which would be fun if he weren't doing it inside your skull. "Treat Me Like Your Mother" tries to pass itself of as a 70's style swaggering hard-rock anthem, but hasn't got the balls to be anything but a thrashing gibbering souffle of Mosshart's voodoo queen impression, White's honky rap-rock skills, and Dean Fertita's impression of a Hammond organ in between hockey periods.
The Dead Weather can play songs like that if they want, but I'll let 'em keep them to themselves.
-ssr